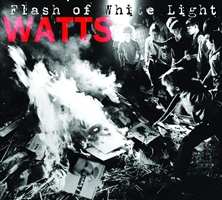 Watts
Flash Of White Light
2014
Opening with the one-two punch of their recent 7″ and never looking back, Watts are keeping the flame of song-driven classic rock alive on Flash Of White Light. Right from the get-go it's clear that Watts have logged more hours listening to Cheap Trick, The Raspberries, Kiss and AC/DC than I've spent doing just about anything. It's in their DNA. When they toss out rippers like "Rocks"* or "Wasted Angels," it's clear where they're coming from. They channel The Cars on "Better (For A Girl Like You)." They evoke memories of "Sweet Child O' Mine" on "Flying Over With Bombs." It's everything I've come to expect from these guys. Thankfully. And then, with a sense of wonder and ringing in my ears, Watts reveal the man behind the curtain on "Trick." Nice move, gentlemen.
Where to get it:
* Dig the left speaker guitar at the 1:10 mark. Awesome.