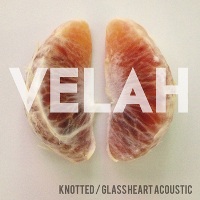 Velah
Knotted / Glass Heart (Acoustic)
2013
Velah continue to find the perfect balance between atmosphere and immediacy on their latest single. "Knotted" opens with a slightly off-kilter, circular guitar riff that would have been at home on Amnesiac. This entrancing guitar line is offset by Nick Murphy's measured vocal. His voice is a calming force amid the complex rhythm patterns. "Knotted" is a Velah song, so we're soon awash in haunting backing vocals, swells of saturation and layers of delay. I wouldn't want it any other way.
"Knotted" is backed by an acoustic version of "Glass Heart" from the bands Black Olympia EP.
Where to get it: