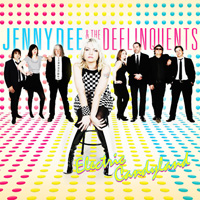 Jenny Dee & The Deelinquents
Electric Candyland
2014
What happens when you take the handful of incredible singles you've released over the past couple of years and you put them all on the same record with a bunch of other great songs? If you're Jenny Dee & The Deelinquents, Electric Candyland happens. I've sung the praises of "Get Away," "Don't Tell Me" and "Bandit Of Love" in the past, but the release of a proper full-length album is as good a time as any to remind everyone how great these songs are.* The Deelinquents manage to blend ELO, Olivia Newton-John, Sweet, Darlene Love and Blondie into something new and different. It sounds wonderful. They snarl on "Bite Your Tongue." They're playful on "Wake It Up." They rock on "Lookin' For Clues." They cover "Fox On The Run" and I'm happy. I think I'll go listen again.
Where to get it:
* They're really, really great.