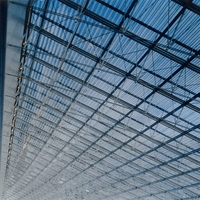 The High Ceilings
The Edge Is As Safe As The Ground
2003
The High Ceilings are a tight unit able to balance introspection and bombast. They're also a smart unit that plays to their strengths. Much of The Edge Is As Safe As The Ground is built around Max Heinegg's powerhouse vocals; they mate well with Chris Blackburn's layered guitars to produce compelling, not-quite-up-tempo songs with ever shifting dynamics.
The High Ceiling shake things up often enough to keep the record interesting. "Mayfly" rocks hard. "Follow To Ruin" rides along on acoustic guitars and piano. "Calcutta" brings to the forefront many of the exotic phrasings that are hinted at in other songs. The six-eight time of "Let It Be Now" is particularly effective. The lead guitar line in this number is probably my favorite part of the whole record. John Woods has some fancy kick drum patters going, too.
The Edge Is As Safe As The Ground would be The High Ceilings' only full length release. It serves as fine representation of the band.
Where to get it: