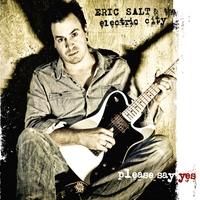 Eric Salt & The Electric City
Please Say Yes
2013
Eric Salt is one talented guy. 2007's The Hail Mary hooked me with its depth and breadth of songwriting. His playing with Jenny Dee And The Deelinquents is always inspired. Plus, he can cover Springsteen like nobody's business. He's equally at home with his own material or someone else's. Please Say Yes adds to this impressive body of work. Here we find Eric Salt & The Electric City getting back to their naturally varied ways. Their cover of Dylan's "Tonight I'll Be Staying Here With You" is gorgeous. "Women I've Loved" is a toe-tapper. "Movie Screen" finds beauty in simplicity. Horns help shape "Last Man Standing" and "Cold Winds Blow." The band's cover of Billy Squier's "Whadda You Want From Me" turns a rocker into a slow burn.* Saving one of the best for last, the record closes with the endearing title track. Play it again. Please Say Yes gets better with every listen.
Where to get it:
* Given the album title and artwork, you had to see that one coming.