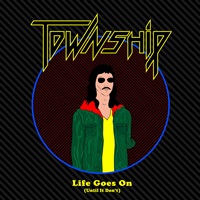 Township
Life Goes On (Until It Don't) EP
2014
OK, folks, time to put on our optimist hats. Sure there may be multiple feet of snow on the ground and piles of the dirty white stuff that reach high up into the sky, but winter can't go on forever. Summer will be here in no time, complete with a brand new crop of summer songs. Looking back, it's safe to say that the summer of 2014 was the Summer of Dudes Summer of Township. These guys put out four top notch EPs that season. I've written about a couple of them, but failed to mention my favorite. The Life Goes On (Until It Don't) EP is the most seminal, horn throwing, unabashedly rocking set of tunes the band has bundled for mass consumption. The title track is hooky, vital and impossible not to sing along with. "Diamonds In The Floorboards" might be the band's best live tune.* The recorded version is just as killer. The vocals are impassioned while the riff goes for the jugular. EP opener "Chevy Nova 1979" sounds exactly like a song with that title should sound. So, roll down the windows. Crank the stereo. Township just provided the getaway soundtrack for your next big heist.
Where to get it:
* Although the monolithic "Garden Of Our Love" gives it a run for its money.