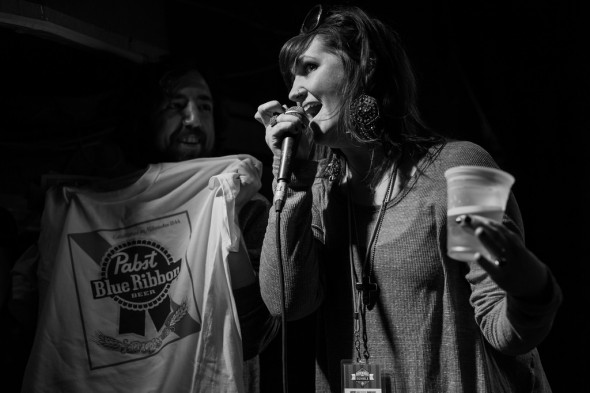 The 2014 Rock 'N' Roll Rumble has been a doozy. The 35th installment of this storied event has seen incredible sets, meticulous preparation, substitute wildcards, misunderstood lyrics and riffs galore. Friday night will find Goddamn Draculas, Petty Morals and Await Rescue (wildcard) squaring off on the friendship stage to see who goes home with the Rumble tiara. It all happens at T.T. The Bear's Place. The Information are in The Rumble.* Until then, chew on this…
Second Chances At First Impressions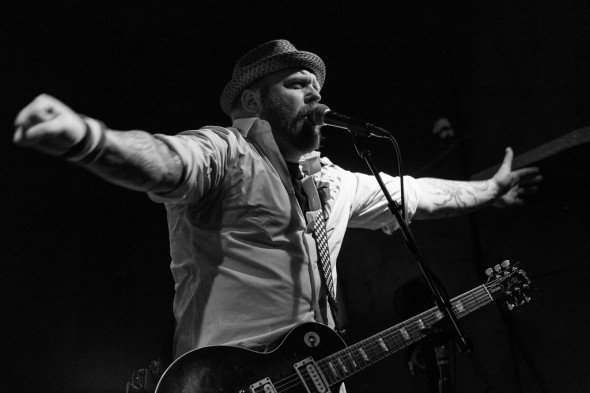 If you want to talk about first impressions, you can't do better than the second Rumble sets from Tigerman Woah and Goddamn Draculas. Tigerman Woah began their semifinal set singin' and stompin' among the TT's crowd. Not to be outdone, Bice Nathan and Chris Duggan from Goddamn Draculas stood side by side, backs to the crowd, in total darkness to start their set. When the word "DRAX" was projected onto the stage, it revealed the rallying cry printed on the back of their shirts: WE CAME TO SUCK.
Tight and Outta Sight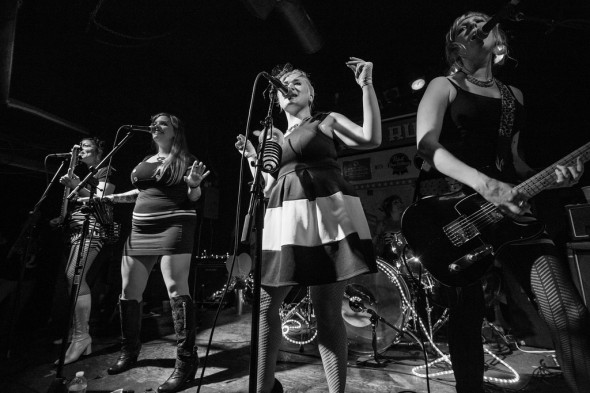 "Tight and Outta Sight" may be a Petty Morals song, but it also represents a Rumble state of mind. You've got to have your act together to do well in this competition. Petty Morals put on a real rock 'n' roll show to take the first semifinal night, but they weren't alone in the preparation game. Await Rescue** and Barricades closed out their nights with precise and energetic sets that kept the outcomes in question to the very end.
Wild Wild Card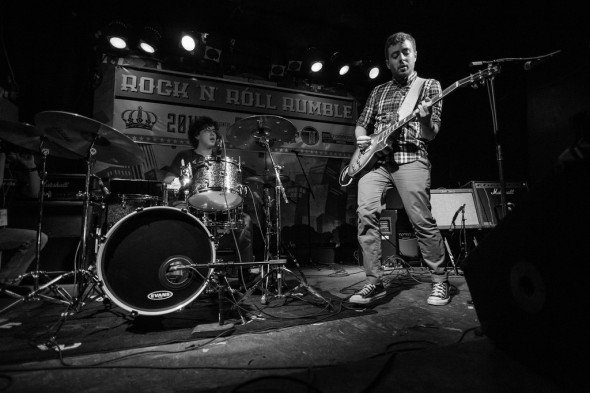 Aw man. I hate when stuff like this happens. Feints earned a spot as the Friday night wildcard, only to be silenced by doctor's orders.*** Such a bummer. The plus side? Rumble-goers got another chance to witness Yellabird riff it up on the TT's stage. Well done, gentlemen.
Fun With Numbers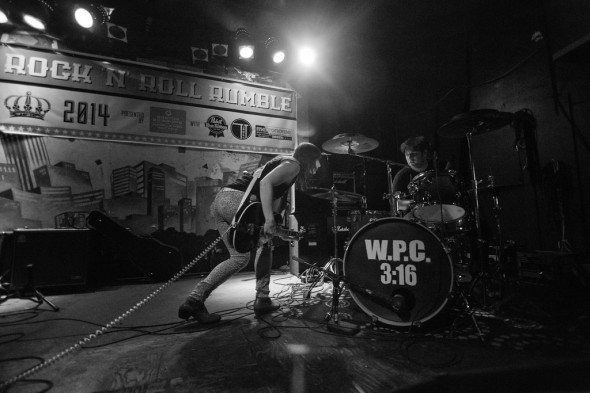 Two out of three ain't bad: Both of the Semifinal winners came from the 3rd slot of their respective nights (Petty Morals and Goddamn Draculas).
Deuces are wild: There were 2 duos in this year's Rumble. When Particles Collide and Yellabird both made it to the semifinal round as wildcards.
One way tie: After a strong showing for formal neckwear in the preliminary round, only Greg Alexandropoulos of Western Education wore a tie in the semifinals.
Play Me Out
The semifinal round was chock full o'tunes. Here are some of the ones that had me wired.
* As this year's non-competing guest band.
** Jed Gottlieb observed that "nobody prepared more for the Rumble" than Await Rescue. I'm not going to argue with him.
*** Get well soon, Amy!