Remember that Sinnet song I loved so much? "Year Of The Whale"? Well, it's now available on vinyl! Yay! The B-side is "Searching For Spectors," which continues the band's ability to walk the tightrope stretched between natural feel and slick production. The harmony vocals really shine on this one. Oh, and the handclaps. Can't forget the handclaps.
But wait, there's more! The download that comes with this record is for a four song EP. In addition to the two songs on the vinyl, you get a couple of bonus tunes. The first, "Nitetime Creepy Crawlies," is a real gem. It's the poppiest number of the bunch. It wears that distinction with pride. "Everybody Into The Pool" brings back a haunting piano sound, like the one in "Year Of The Whale," before launching into another quality indie rock number.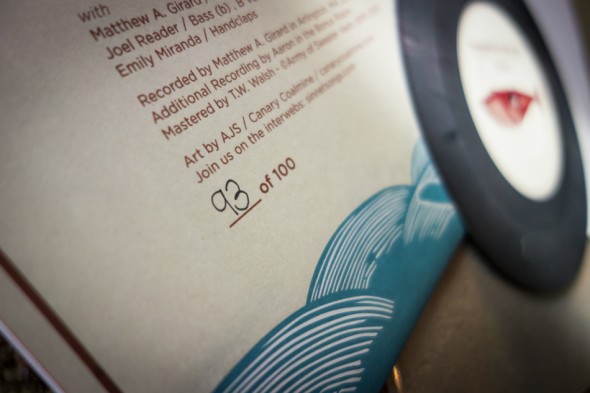 The grooves of this small-hole, 33 ⅓RPM 7″ are pressed into cool dark gray marble vinyl. The rest of the package is the tried-and-true white sleeve/fold over/vinyl bag combo.
Where to get it: