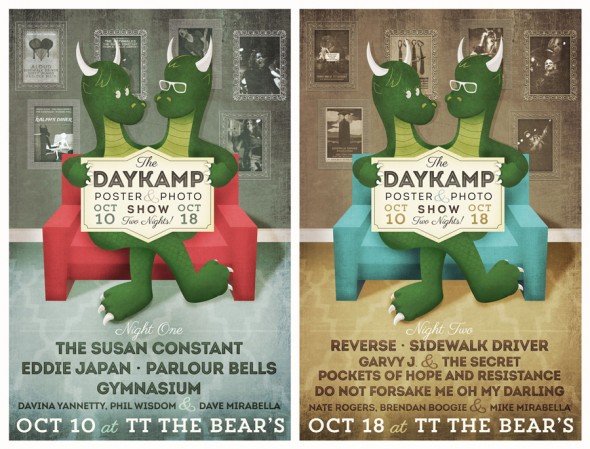 We're putting on a a couple of shows with rock bands, photos and posters at TT's in October! It's going to be more awesome than we can put into words. That's why we had Richard Bouchard do it for us! Here's a special guest post from the Indie Rock Ranger with the details…
When I was first hired to do booking at TT the Bear's Place, one of the first things I wanted to do was set up a show with Nicole and Johnny Anguish of Daykamp Creative and Daykamp Music, respectively. I've been hiring Nicole to create show posters since back in the Boston Band Crush days, usually giving her no guidance other than the list of bands and the date of the show. She always delivers an incredibly eye-catching, colorful design that doesn't just provide information; it's something I want to hang on my wall forever. Then there's Johnny, always front and center for a rock show before posting amazing photo recaps on his Daykamp Music website. They tirelessly support the music community here, and knowing that I wasn't the only one to feel that way, I felt that it was high time they present a show. Not just any show, mind you, I wanted them to pick the bands – artists they've worked with over the years and bands they're longtime fans of – but I also wanted to display their work in the club for everyone to see. After some brief discussion, Nicole emailed me back: "We're thinking we need to do two nights…"
Here's what they came up with:
Thursday 10/10
(Tickets | Facebook Event)
Friday 10/18
(Tickets | Facebook Event)
Two night pass: http://www.ticketweb.com/t3/sale/SaleEventDetail?dispatch=loadSelectionData&eventId=3781134
Posters and photos from the Daykamp empire will be on display for the entire week between shows.
– Richard Bouchard