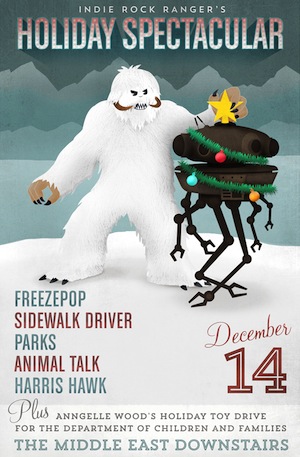 Open web browser
Type: http://www.bostonbandcru
Realize it's been a year since your favorite site closed up shop
Hang head like Charlie Brown
The above happens to me a few times a month. Old habits die hard, I guess. This time last year, the folks at Boston Band Crush presented their final show, with Freezepop, Sidewalk Driver, The Field Effect and Emily Peal and The Band of Skinny Men bringing some much needed holiday cheer to a sold out crowd at Brighton Music Hall. It was a fitting send off, put together by Richard Bouchard (AKA Indie Rock Ranger AKA The Biggest Supporter Of The Boston Music Scene Since Billy Ruane).
Over the past year, Richard has put together some of the finest shows in the city under the Indie Rock Ranger Presents banner. Thankfully, he's readied another humdinger of a bill to fend off the holiday blues. Freezepop and Sidewalk Driver are back. This time they're joined by Parks, Animal Talk and Harris Hawk. That's a whole lot of awesome on one bill. The Indie Rock Ranger Holiday Spectacular happens Saturday night at The Middle East Downstairs.
Sounds good, right? Of course it does. You love rock 'n' roll and the possibility of a Glamta sighting. I'm going to go out on a limb and wager that you also want to help some kids in need this holiday season. Thank you! You can do so at this very event. Anngelle Wood will be holding her annual toy drive for the DCF Kids Fund at the show. New (unwrapped) toys, gift cards, electronics, books and just about anything else a kid might enjoy will all be collected. Don't have time to get to the store? Pick up a print of Nicole Anguish's amazing Empire Strikes Back-inspired poster at the show (it's at the top of this post, in case you missed it). All of the profits from poster sales will be donated to the cause. Plus, you'll get to go home with a wampa.
Do good on Saturday night.