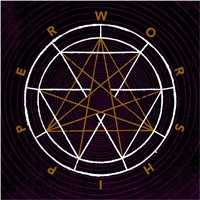 Worshipper
"Place Beyond the Light" b/w "Step Behind"
2015
Two more tunes from Worshipper? Yes, please. I won't hide my love for this band. They play a kind of no-frills metal that emphasizes riffs, groove and melody over all out heaviness. Take a listen to "Place Beyond the Light." The hook is soooo good. "Into the night / I will carry you / To the place beyond the light!"* It's classic metal reborn. It's powerful. The raw and muscular "Step Behind" comes next. Half way through, Worshipper build a majestic cathedral from whence they deliver the most ferocious guitar solo they've conjured yet. Save us.
Where to get it:
*Note: It's hard typing lyrics while you're throwing horns and singing along.