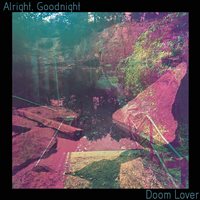 Doom Lover
"Alright, Goodnight"
2015
It's 2015, so we're all aware that Doom Lover is awesome, correct? OK. Good. "Alright, Goodnight" continues the band's tradition of songcraft that is hard to pin down. Is it atmospheric? Yes. Is it immediate? Also, yes. Is it eerie, frenetic or gorgeous? Yes on all counts. "Alright, Goodnight" changes from foreboding ballad to desperate anthem at the drop of a dime. All the while, harmonies hold your heart. Doom Lover have created their own musical world with a seemingly endless supply of songs that are slightly out of whack in just-the right-ways. I hope this well never runs dry.
Oh, they also made a pretty great video.
Where to get it: