Black Friday is terrible. Do your holiday shopping at The Daykamp Poster & Photo Show.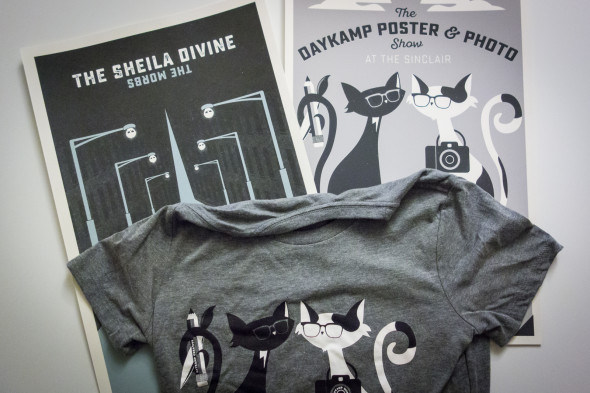 The Daykamp Poster & Photo Show is next week! We'll be hanging art and watching The Sheila Divine, Sidewalk Driver and Weakened Friends at The Sinclair on Thanksgiving Eve. There will be loads of cool new merch available at the show. You could pick up some holiday gifts right at the club. How cool is that? We made up some t-shirts with the Daykamp kitties on them. You can't go wrong with a cat t-shirt. Why not pick up a screen print of the show poster? We've got 'em. There will be a silent auction to benefit the MSPCA. Up for bid are two Juliana Haltfield Three posters signed by Ms. Hatfield herself. The Sheila Divine will have The Morbs. They'll also have a new poster of the album artwork and a glow-in-the-dark t-shirt designed by Daykamp Creative. GLOW IN THE DARK T-SHIRTS! Sidewalk Driver will have CDs and tees. Weakened Friends have limited edition cassettes. We'll even sell you the art right off the walls! Sounds like you'll be done with your holiday shopping early this year.
Want to join the fun? You can get tickets here. You can do the Facebook thing here. Doors at 8. Music Starts at 8:45.