Hi. We love the Boston music scene here at Daykamp Music. We love it so much we made it a present. It's called Daykamp Music TV.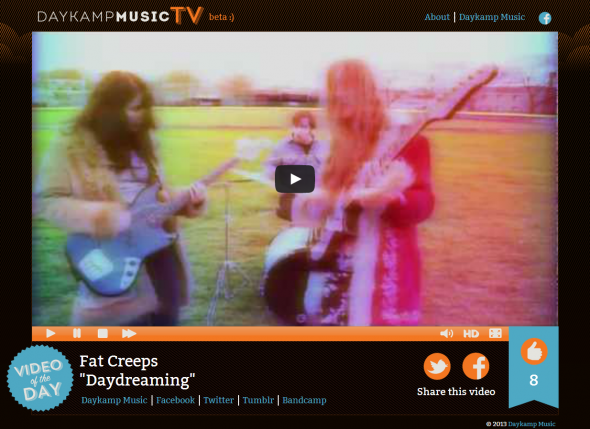 OK, it's not really TV. You'd probably figure that out on your own. We just saw all of these really cool music videos being made and we wanted some way to watch them one right after the other. You know, like the good ol' days of music television. Is that so wrong? So we built this. Then we found that we kept watching it, like, all the time. So we figured maybe someone else would want to watch videos this way, too.
There's not a whole lot to it. Go ahead, click the play button. Watch some videos. Like a video? Give it a thumbs up. Better yet, share it with your friends. Not digging a song? Skip it. Dont worry, there's no penalty for skipping a song. Keep an open mind, though. Maybe we'll help you find your new favorite band.
We hope to make Daykamp Music TV something you will love. We're still in beta, so you may find a feature here or there that doesn't work quite right. Feel free to drop us a line if you have any issues. Or maybe there's a video you think we should know about. We'd love to hear about that, too.
Boston bands inspired this. We built it. Daykamp Creative made it look good. It was a team effort.